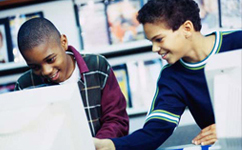 High School Subjects include Mathematics, English, History and Science content meeting key state and national standards. All lessons provide formative assessments, instruction, connection to free supplemental educational videos and other internet learning resources that students may use to answer their questions or further explore.
Students may complete their high school courses early. Included in eTAP are complete test preparation and review courses for the common college entrance exams including the SAT and ACT, the ASVAB for the military, and the GED.

When students complete eTAP's high school courses, community college classes that are transferable to universities are an excellent next step. Also, students may choose courses that prepare them for employment in medical and technical jobs. As an alternative, students can take the SAT & ACT exam for direct admittance to most four-year colleges or universities.


Want to Know More about online high school education programs? Contact us!
High School Diploma
Students who complete the eTAP high school curriculum have several options for receiving a diploma:
After completing high school courses, the student can complete the GED for a fee of about $200 from ACE | GED Testing Service - Official Web Site for GED Testing
Students may complete their last year of high school study with The Learning Community International and receive an accredited high school diploma. TLCI uses eTAP content and will also provide counseling, advising, and transcripts.
For more information, contact pel@ NStemTLCIschool.org or call 240-654-4189.
Upon review of completed eTAP courses, receive a diploma from Pacific International Academy at a cost of $299. Records section below describes how a student's final grade will be determined.
Enroll in a public, private, charter or umbrella school that will provide their diploma.
Homeschool
Parents can use eTAP as their complete instructional program or as a supplement to other programs that they are using. Some homeschool parents provide supervision of their children's education using resources from eTAP. Other homeschool parents enroll in local charter or public schools with independent study programs. Some of these schools will pay for eTAP membership fees. Please see our Success Stories that describe how parents are using eTAP to increase the success of their children.
It is recommended that each of your students spend about four hours a day on the four core subjects. This will vary from day to day, allowing homeschoolers flexibility for other valuable learning experiences outside the home such as visits to the library, museums, parks, art, music lessons, and sports.
Public and private school
Students use eTAP's tutorial style learning to supplement their existing classroom and textbook instruction. The lessons and the attached resources are easily used to provide further detail, more practice, and remediation, as necessary. eTAP simplifies instruction for students that have had difficulty succeeding in the traditional classroom. This has greatly increased the success of students with different learning styles by allowing them to select the learning resources that best fit their needs.
Whichever path you choose, eTAP's tutorial style instruction will engage students, making them active learners.
Records
Our program is self-administered and uses formative assessments with Pretest, Practice and Post Tests. After taking the pretest, a student can advance to the lesson. Incorrect answers identify what the student needs to learn. They read the instruction, watch the videos and take the practice test. Finally, when they get correct answers on the post test, they print out the page as a record portfolio of the school work they have completed. This portfolio record can be used to track what the student has learned, and can also be used to satisfy local school agencies' requirements. If you decide to enroll your child in school at a later time, these records will help the school determine the right grade placement for your child. Also, eTAP's student management software saves a record of all tests completed on your computer. The post test should only be taken after students complete the pre test, read the instruction and watch a video. The post test record will be used to determine the students final grade. Each course also includes a midterm, quarter exams and a final exam that will be used to determnine a students course grade.
eTAP Curriculum for High School Grades 9-12 (ages 14-18):
The instruction style for high school is independent self-study. The parent/teacher provides guidance and assistance as needed. Our online high school program is academic and provides the courses typically required for entrance to college.
The core curriculum is then rounded out with valuable Test Preparation courses provided for the CAHSEE/CAHSPE, SAT, ACT, GED and ASVAB exams
HSEE (High School Exit Exam) review is for students who are required to take this exam by their state school agency.
SAT & ACT reviews are provided to assist the student in obtaining the high score necessary to attend the four-year college or university of their choice.
GED (General Educational Development) test certifies the taker has attained high school-level academic skills. For most purposes, a GED high school equivalency credential is nationally recognized as an alternative to a high school diploma. Approximately 95% of colleges will accept GED graduates, though they may also require them to take the SAT and/or ACT.
ASVAB (Armed Services Vocational Aptitude Battery) is the test required by the military for those who wish to join the military service.
The usual course sequence is Algebra I, Geometry, Algebra II, Trigonometry and Statistics. Expect to spend about two weeks per lesson.
Algebra I has 16 units and is extended over one year of study.
Geometry has 16 units and is extended over one year of study.
Algebra II has 11 units and is extended over one year of study.
Trigonometry has seven units and is extended over one half of a year.
Statistics has nine units and is extended over a half a year.
Language Arts/English is divided into grade 9, grade 10, grade 11, and grade 12. The student should move on to a higher level of study as they progress to the next year of study.
Science
Science for the high school years includes Earth Science, Biology, Chemistry and Physics. The subjects may be studied in any sequence, although Earth Science should be completed first. Each subject in our online high school program has about 10 units to be completed over the period of one school year. About 3-4 weeks should be used for the lessons in each unit.
Social Studies
Social Studies/History also provides one subject for each of the four high school years, including World History, American History, Government and Economics. Each subject has 10-14 units to be studied over the period of one school year. About 3-4 weeks should be used for the lessons in each unit.

Want to Know more about online high school education programs? Contact us!